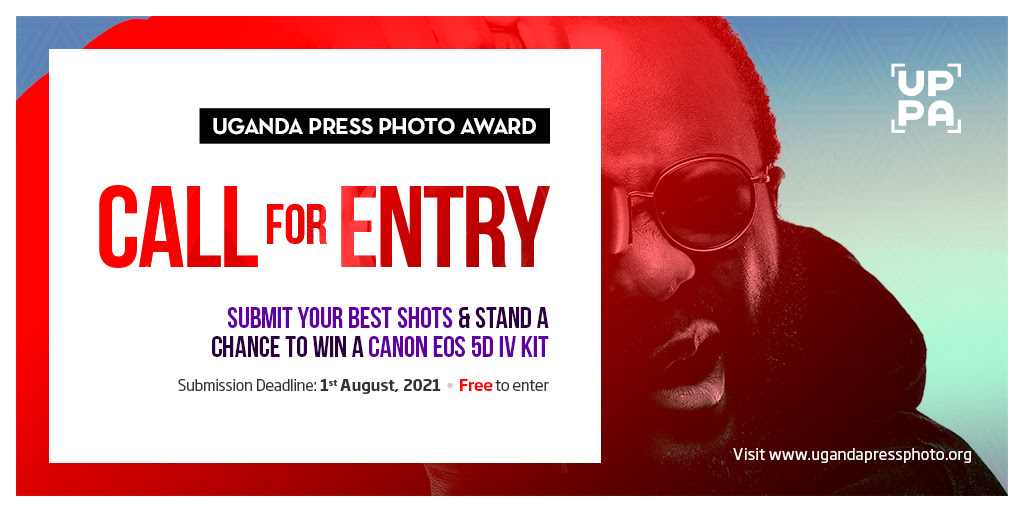 The Uganda Press Photo Award (UPPA) invites all Ugandan photojournalists and photographers to participate in the tenth anniversary edition of the annual photo contest.
Submit your best work to showcase the talent we have on the ground and stand a chance to win a CANON EOS 5D Mark IV DSLR with an EF 24-105mm lens. All winners also get the opportunity to showcase their work in our annual exhibition, which features some of the best visual storytellers Uganda has to offer. Participants can submit their images (published or unpublished) to six different categories: News, Daily Life, Environment, People, Sports & Urban.
The UPPA will be judged by a panel of some of the finest photography professionals on the continent including: Edward Echwalu (UG), Georgina Goodwin (KE), Mulugeta Ayene (ET), Paul Botes (SA) and Sarah Waiswa (KE/UG)
The East African Photography Award (EAPA) also returns for its fourth edition. This award is open to citizens of Burundi, Ethiopia, Kenya, Rwanda, Tanzania and Uganda who are invited to share their photo essays documenting and sharing the different realities from their different corners of the region. From short-term photojournalistic reportage, to more personal, long term stories that dig deeper, we hope to see timely and engaging visual storytelling on cultural, socio-political, health, environmental or technological issues affecting individuals or societies and the way we live, that challenge perspectives and opinions. And don't forget- the secret to a truly great photo story, which is that the images must do the talking, working together to create a clear narrative of whichever topic the photographer wishes to focus on. The winner of the EAPA will take home a Canon EOS R with a 24-105mm lens and a lens adapter.
The EAPA will be judged by an international jury composed of photography professionals including: Adriana Teresa Letorney (US), Khona Dlamini (SA), Louise Fedotov-Clements (UK), Sarah Gilbert (UK) and Yasuyoshi Chiba (KE/JP).
Emerging photographers between the ages of 21 and 28 with an interest in building a career in documentary photography are invited to participate in the Young Photographer Award (YPA). Awaiting the winner is a CANON EOS 90D with 18-55mm lens to equip them with the right tools for the work ahead, as well as the opportunity to participate in a seven-month Mentorship Programme and to exhibit their resulting work in 2022.
The judging panel of YPA judges will include: Anna Kućma (PL/UG), Anne Nwakalor (NG/UK), Chris Dennis Rosenberg (UG), Katie Simmonds (UK/AE) and Uche Okpa-Iroha (NG)
The deadline for submission to the UPPA and EAPA competitions is August 1st. The deadline for submission to the YPA is July 15th.